Photographs!
Hey, I finally figured it out. Thanks to the new redesign of Blogger, my long hoped for dream of publishing pictures on blogger have finally come true. Of course, I don't really have any decent pictures to publish. The only thing I have is a photoshopped image I made over the Christmas school break of Rick James and what I like to call, ahem, a cool cat. While the picture may be something ridiculously mundane or plain silly, the fact that I can even put one up is beyond cool.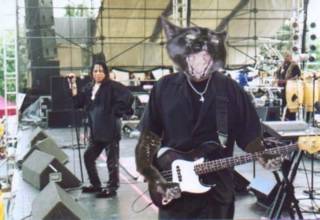 Rick James remains, for me anyway, a cool cat.
Posted by Hello
Of course, now the challenge will be to find my own appropriate imagery, maybe even invest in a cheapo digital camera that has been the object of lust by my technologically inclined heart. I will remain a blogging hobbyist, even though I loathe the word, but at least my site can now have the dignity of imagery. As weird as those images may be.
12 May 2004