Another Picture
This not much a post really. I took the photo you see a couple of weeks ago, but I have only just now got it uploaded on to my laptop. As the caption says, it is picture from the fourth floor of my office, a dank little dungeon like cave that I share with six other people. Trust me, it is not even as glamorous as I just described it. However, it is an office, and as such, a nice place to do some homewrok and grade some papers without being disturbed too much.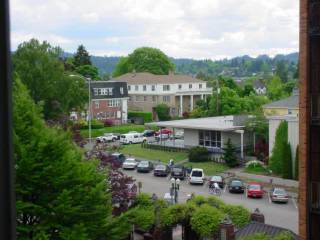 This is the view from my fourth floor office!

Lord help anyone who tries to study in the library. Even though everyone whispers, it is just too crowded during the middle of the day. Anyway, the two large victorian type buildings in the back are a ocuple of Greek houses, and the low squat building close to the front right are the local university slums, aka quads. Oh, and parking here is terrible. If you're not at school insanely early in the morning, you may as well go home and walk to school, because you're sure not going to find any parking, and it will likely take the same amount of time.
30 May 2004